My latest tastecard adventures took me to a part of London that I am not too familiar with. Kings Road, Fulham. Or "The Kings Road" as it's fondly known as. What perception is conjured up by Kings Road? Well, it was famous in the 1960's for style icons Vivienne Westwood and Malcolm McLaren.
Nowadays, it still has a reputation for being one of London's most fashionable shopping streets. In addition to this, it is also known as being residency for Fulham's 4×4 mums and Made in Chelsea.
The Imperial Arms, as it was previously known, had a history of being a "posh rowdy" pub for young people frequenting in their gap year of university. That was until it was taken over by the Eco Chic Restaurants team in 2013. Housed in a Victorian building, the team have chopped the arms off, so to speak. It is now known as The Imperial.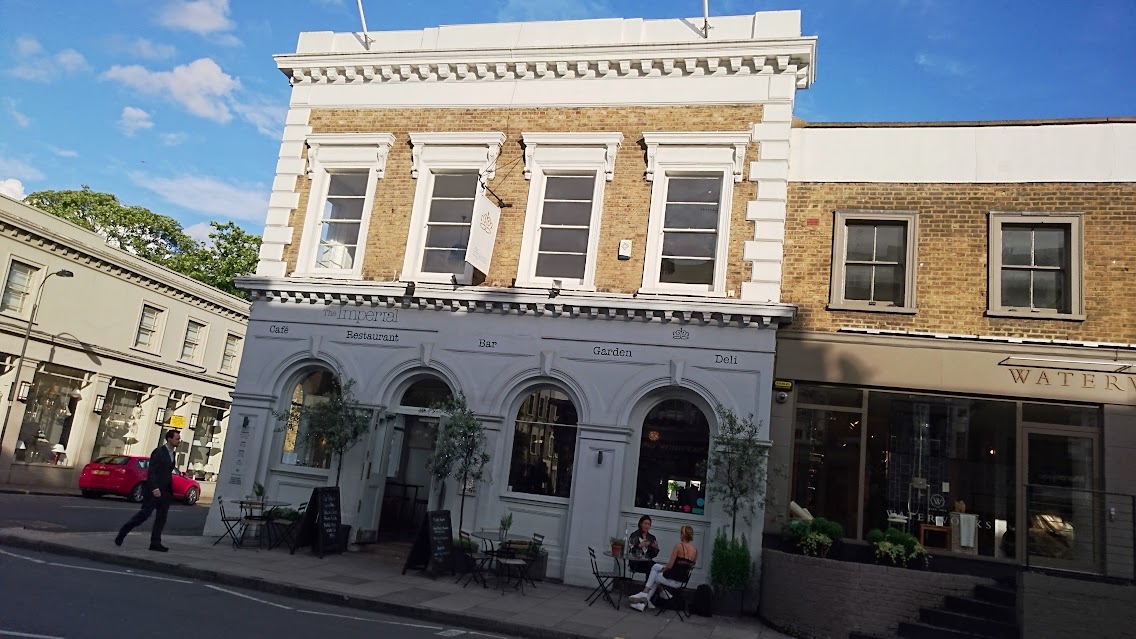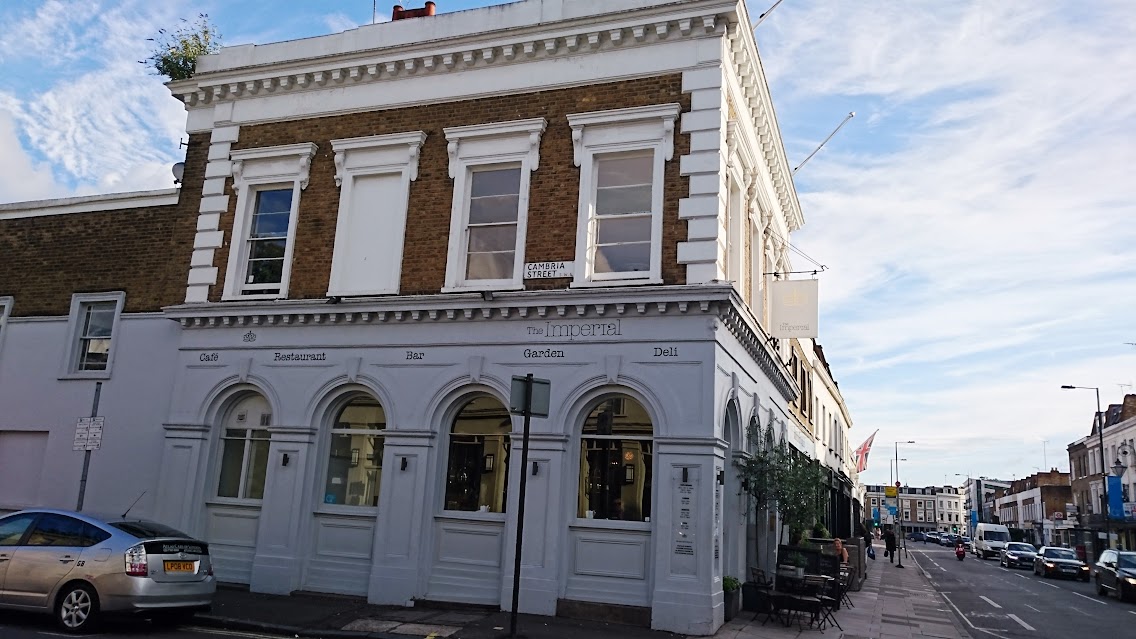 It is now dubbed an "eco-chic pub", which you certainly get the feel of, as soon as you step onto the premises. It has a similar feel to the heavy presence of interior design shops that make up the western end of Kings Road. Light and airy, drenched in white, it is welcoming as soon as my companion and I enter. We were very lucky with the weather, as the previous day had been a torrent of thunderstorms and rain. Not today! Sunny and warm with blue skies, which we took opportunity of and sat in the spacious yet very private garden.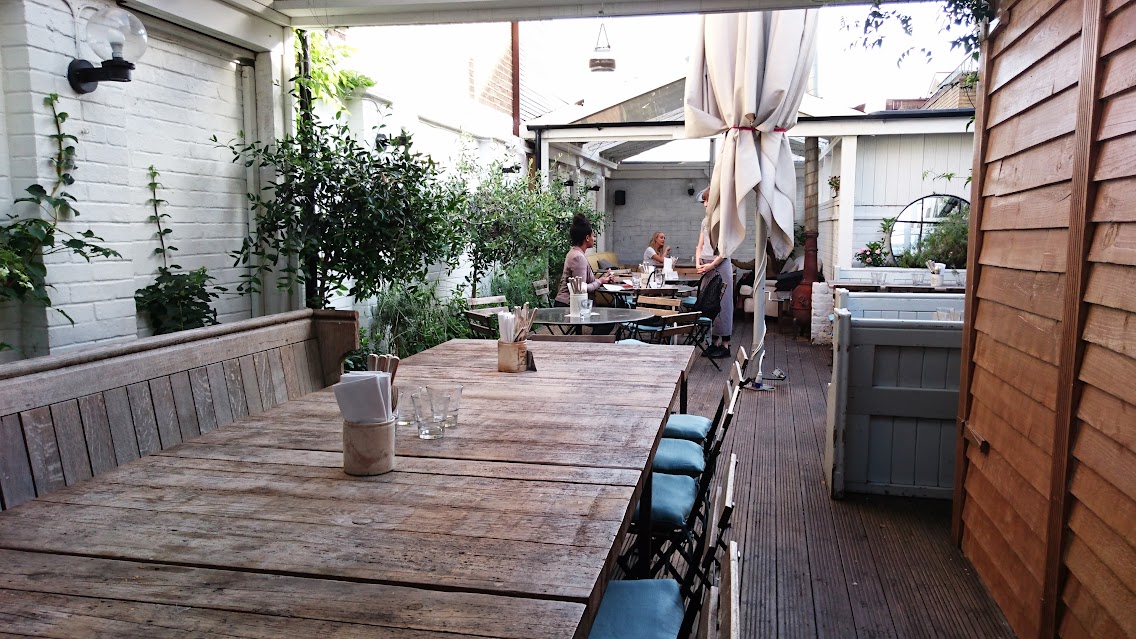 The Imperial prides itself on local produce, healthy eating and stunningly prepared dishes that intend to visually delight and provide a wonderful dining experience. I was immediately impressed with the open kitchen, I love seeing chefs prepare food and I see it as a bold, brave position if restaurants are willing to allow their kitchen to be placed under a magnifying glass – big tick from me.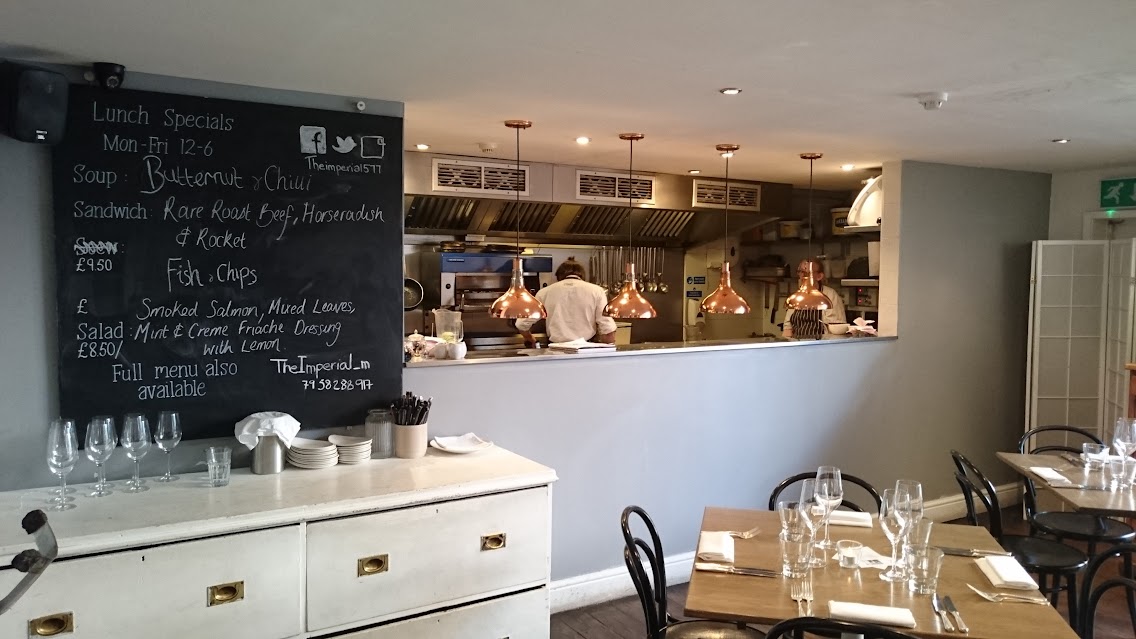 An extensive menu awaited us with options to suit all palates. We started off with a smoked salmon dish and a pork belly starter – with the intention of sharing – the best of both worlds.
The salmon was cured with wild Garlic, pickled Turkish morel mushrooms and a pink salmon pâté. It was a lovely and the morel mushrooms was something new that I'd not had before. The pâté was more-ish and complemented the smoked salmon.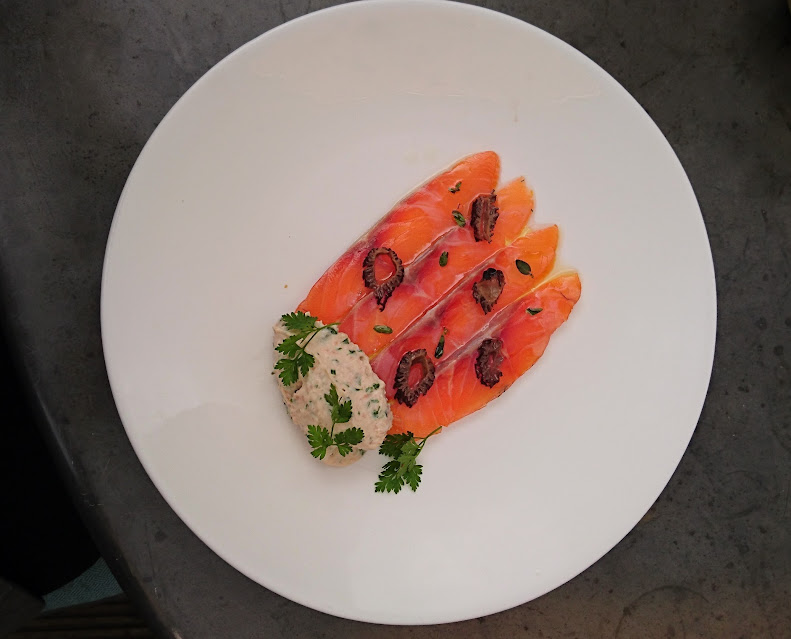 Pork belly is one of those things I have when I go out to restaurants as I rarely (possibly only once!) ever cook it, and the pleasure of crackling is so much greater when it's done by someone else. The  pork belly was unusually served with a strawberry and mint oil (which you can see around the pork), borage flowers, heritage radishes and white cabbage puree. The white cabbage puree was not immediately recognisable, as the sauce to the side of the pork was black! I asked the waitress what it was – and after checking with the chef, she confirmed that it was the puree, but it was dyed with squid ink! The strawberry and mint oil was very delicate and not overpowering at all. The crackling was YUMMY. It was everything I hoped it would be.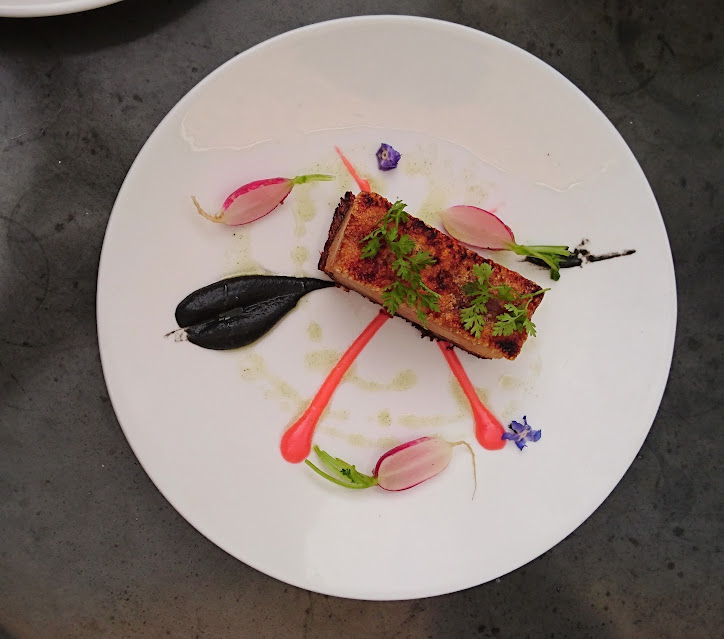 With both starters consumed – sensible portion sizes which left us looking forward to our main dishes, we were ready for the next dishes to tantalise our tastebuds. A must for me was the truffle polenta cubes. I have been sold on deep fried polenta manufacturing itself as chips ever since I first tried Pizza Express's rosemary polenta fries, so I had no doubt that The Imperial's polenta cubes would be divine, with the addition of truffle and parmesan. Oh yes – but this was a side. I digress. For the main event itself, my companion and I opted for the sirloin steak which was served with spiced aubergine, and the market fish of the day. Which we were informed was sea bream.
I'll forgive The Imperial – for serving my steak on a chopping board. You may (or may not know) that I have a thing about food not being served on plates at restaurants, and the trend of serving food on chopping boards, slate, chips in replica deep fry baskets etc. I'm not a fan. I will say however that steak on a board is completely forgivable – as it is meat (which should be on a board anyway, especially if it's resting) AND my companion and I were sharing again so it worked!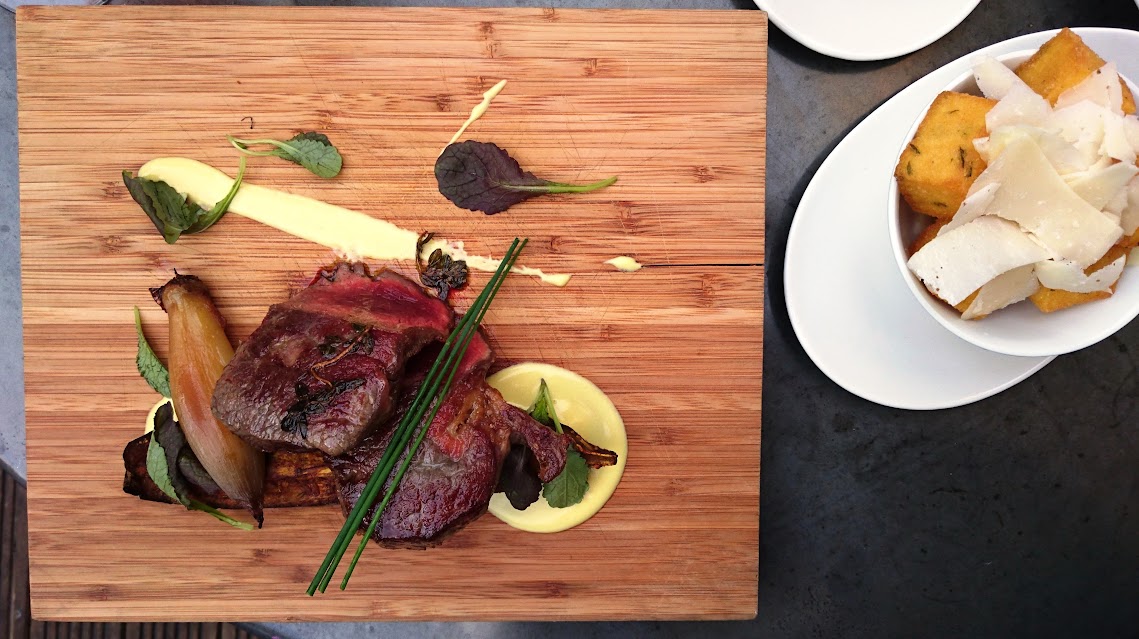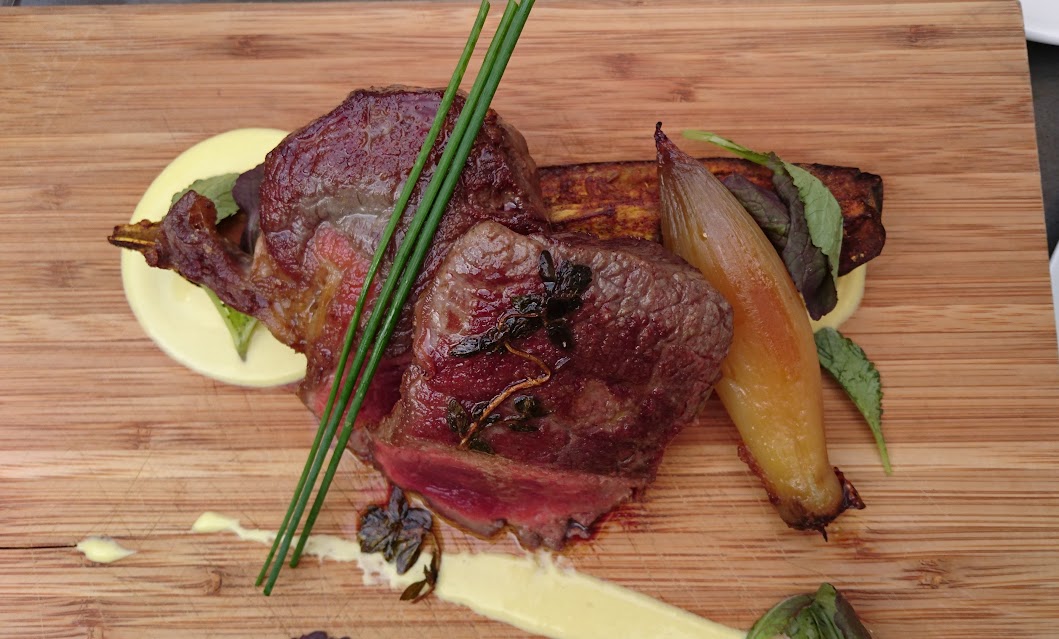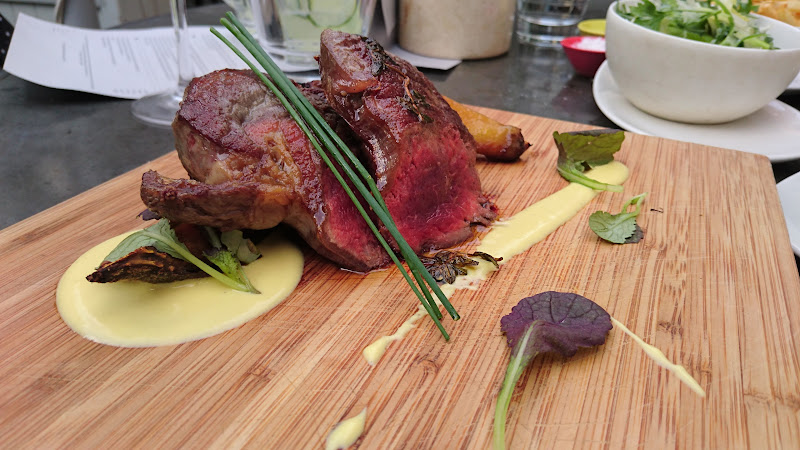 The sea bream was the perfect alfresco summer dish. Served with mussels, orange and greens. It wasn't "just" a sea bream dish. Pan fried to perfection with a crispy skin.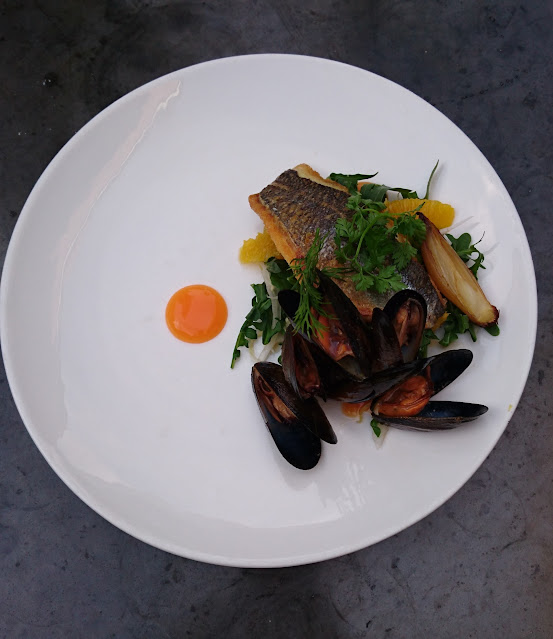 A big winner with my companion was the side salad we'd ordered. So much so, she took a photo of the ingredients on the menu, so that she can recreate it at home. It was a simple constructed salad, but every single addition worked in harmony.
So, NOW can I talk about these polenta cubes? They were a hit – and don't just take my word for it, when I was reading reviews of The Imperial before visiting, it is easily the call-out side dish everyone has taken a liking to. Perfectly crispy on the outside, hot and moist on the inside. A bite with a chunk of parmesan was the perfect combination.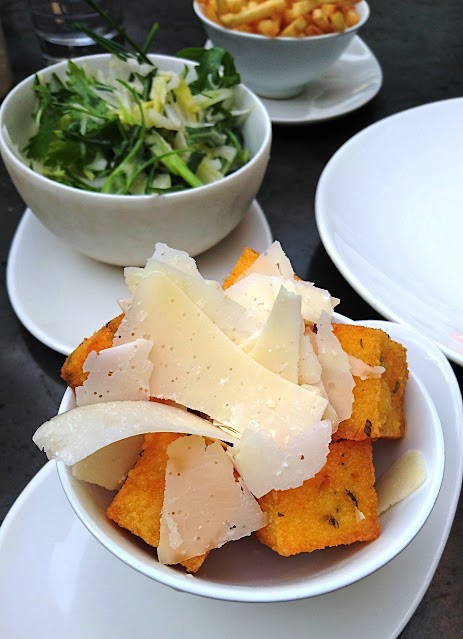 By the time we had finished and decided on tackling a dessert course, the sun was setting and it was becoming a bit chilly outside, so we moved inside to warm up. The desserts we opted for certainly helped us do that. Particularly the cinnamon and butter apple crumble, which was served with poppy seed and oats, British clotted cream, and decorated with pickled rose petals. It was a very warming comfort dessert, particularly welcomed after being outside. It was very hot! We had to let each mouthful rest on the spoon for a moment before eating as the crumble and the dish held in the heat. I eventually tipped it out onto another plate as we just couldn't contain ourselves anymore and wanted to eat!
The other dish we opted for was a marquise. My first marquise! I've never heard of it or had it before. Didn't know what to expect, but as it was chocolate I thought it's going to be good! A marquise, is simply a rich chocolate dessert made with dark chocolate, butter, sugar, cocoa powder, eggs and cream.
This is how it was served.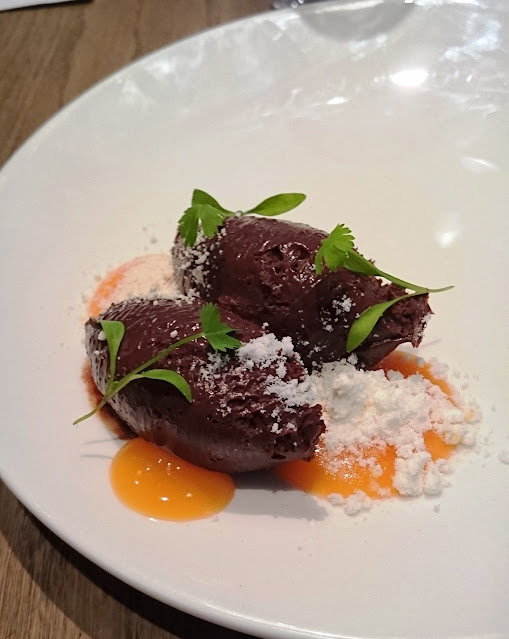 It's intensely rich and the portion was perfect – if not a little too much for one person, we weren't able to finish it. The orange is an orange and vanilla bean gel. It was also covered with a white chocolate dust.
The Imperial's setting and placing in the restaurant industry has been firmly solidified. It appears to be a welcome addition to the neighbourhood replacing its predecessor. They have got the impression right, it fits in very well amongst the high end home décor shops, even down to their own interior which would impress many types of clientele from couples to families, mummies and alike. As we were leaving we passed a group of 20 something men having a drink at the front, civilised and well behaved (of course they should be!) but this image depicted exactly what The Imperial has become. It is also a short (7 minute walk) from Fulham Broadway station which is a pleasant walk along residential roads housing beautiful Victorian homes. Well worth a visit, if you happen to be in the area.